Members of the OTF Nation support, energize, and motivate each other through every fun workout and fitness challenge.
Orangetheory Fitness members around the world are gearing up for the "More Life" Transformation Challenge. In this 8-week challenge, OTF members will compete to lose weight, gain confidence, and transform their lives. Cash and prizes are awarded to the top male and female winners.
We'll be participating in exciting fitness challenges like this one when we open our brand new Orangetheory Fitness studio in Papillion, NE.
Sure, it's a competition, member against member—but it's one of the friendliest, most supportive competitions you'll find. The OTF Fit Fam burns together. We push each other to stay on track, go all out, and reach our goals.
And that's one of the reasons the Orangetheory Fitness workout and annual challenges like the Transformation Challenge deliver such incredible results.
Exercising with friends, like in a group fitness class, takes it to a new level.
Members vying to win this year's Transformation Challenge have realized that participating with a friend could be the secret to victory. Here's why:
1. Having a workout partner helps keep us accountable.
You know why you started and what you're burning for at OTF—and your workout partner knows, too. The more people who know your goals, the more people to see when you're either slacking off or seriously crushing it. There's serious power in getting social with your fitness journey.
Not to mention all the other fun stuff that comes with having a workout buddy, like sharing a ride to class or grabbing a healthy post-burn bite after racking up those splat points and reaching the afterburn. TIP: Splat points are what you earn for spending time in the target heart rate zone. Earn 12 or more to achieve the "afterburn" effect and keep burning calories for up to 36 hours after your workout! It never hurts to have extra motivation to make it to your 6:30am class on Monday.
Eric and Shannon H. from Melville, New York, love the extra motivation they get knowing that they're both doing the workout.
"Knowing that one of us was going to OTF on any given day pushes the other to go," they said. "It's a fun bond that we share together."
Eric and Shannon have lost a combined 50 pounds of baby weight after joining Orangetheory Fitness together. They now have the strength and stamina to be more active as a family.
"We burn to have the energy for each other and our kids, to feel strong and healthy, and to feel comfortable in our skin and clothes."
2. Working out is more fun with a friend.
When we start burning at Orangetheory Fitness Papillion, we won't have to look far to find a smiling face or a high five. From our coaches to our friendly members and staff, we won't just workout together—we'll have fun together, and we'll laugh together. And when we crush a workout, beat our personal records, and win challenges, we'll celebrate together.
Want even more motivation to push yourself in each class? Make it a friendly competition to see who can get the most splat points each week.
Brooke and Nicole, sisters and founding members of Orangetheory Fitness in Oxford, Mississippi, attribute their 300 completed OTF workouts to friendly family competition.
"We are very competitive, so being able to see everyone's heart rate on the screen makes us push harder to get in the 'orange zone' ," they said. "It has helped us build muscle and endurance. Before Orangetheory Fitness, we would have never been able to run 8 miles straight!"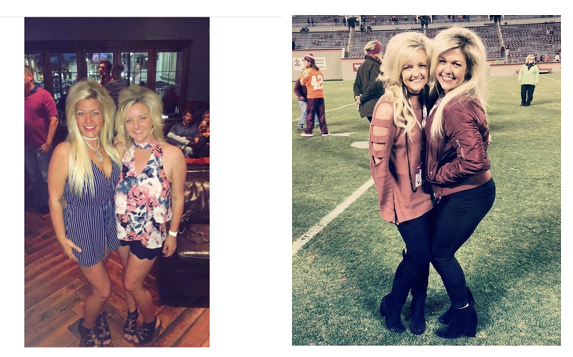 3. Buddies you burn with get what you're going through.
Talk about the perfect support system. It takes a fellow Orangetheory Fitness member to fully understand the victory of racking up 30 splat points in one class or what an "All Out" really feels like. For those that don't know, "All Out" is our highest intensity heart rate zone and means you're giving it all you've got! Your OTF Fit Fam will be with you through every Endurance, Strength, and Power focused workout day and through every fitness challenge. Many of us will share goals, and we'll all be burning for our best life.
Other people have goals and workout, but Orangetheory Fitness is a one-of-a-kind workout. OTF is a way of life. Those of us who know it, get it—and we love the Orange life! We can't wait to turn Papillion Orange!
Friendly @coachang_otf motivates her members with a smile!
For extra motivation, fun, friendly competition, and support, burning is better with a friend or family member by your side. Together we'll be able to conquer anything!
Ready to get started? Click here to join as one of our founding members and lock in discounted rates, available for a limited time before we open. Click here to let a friend know Orangetheory Fitness is coming to Papillion.